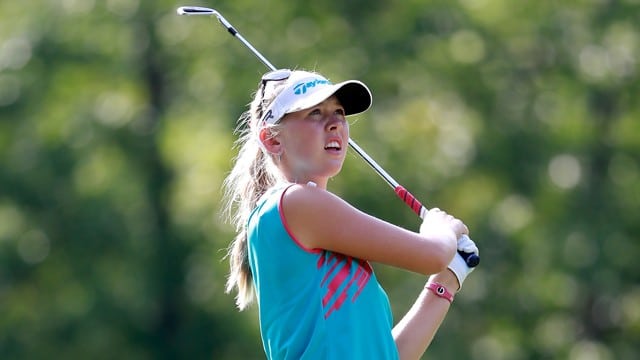 Jessica Korda knew something had to change after shooting five over on the front nine during Saturday's third round of the U.S. Women's Open.
So she looked at her boyfriend and said, "Johnny, grab the bag, let's go."
In other words, the 20-year-old golfer fired her caddie, Jason Gilroyed, in the middle of the round at an LPGAmajor championship, saying later that the two of them had more than one disagreement already that day and that things just needed to be a little more fun.
"We had a couple of disagreements here and there, and I wasn't in the right state of mind. I knew I needed to switch and just have a little bit more fun out there," Korda said. "It's a U.S. It's tough out there. It just wasn't working out."
Korda went on to explain how hard the experience was on her.
"It was tough for me, because I care about Jason a lot. He is a great guy," she said. "That's just how it happens sometimes in life. That was one of those things today that it just unfolded. It was very hard for me to do. I'm not that type of person to take these things really easily. For me it was very hard to tell him that and it took a lot for me."
A headline in Forbes Magazine called the move "classless," but it seemed to work out fairly well for Korda. With boyfriend and professional golfer Johnny DelPrete carrying her bags, she went one-under the rest of the way and finished the day at one over and tied for sixth Saturday at Sebonack Golf Club in Southampton, N.Y.
"The first few holes I was very shaky, but my boyfriend/caddie kept me very calm out there and kept it very light," said Korda, who shot one-over par on Sunday with DelPrete as her caddie to finish tied for seventh place. "And it was kind of funny seeing him fumble over yardage."