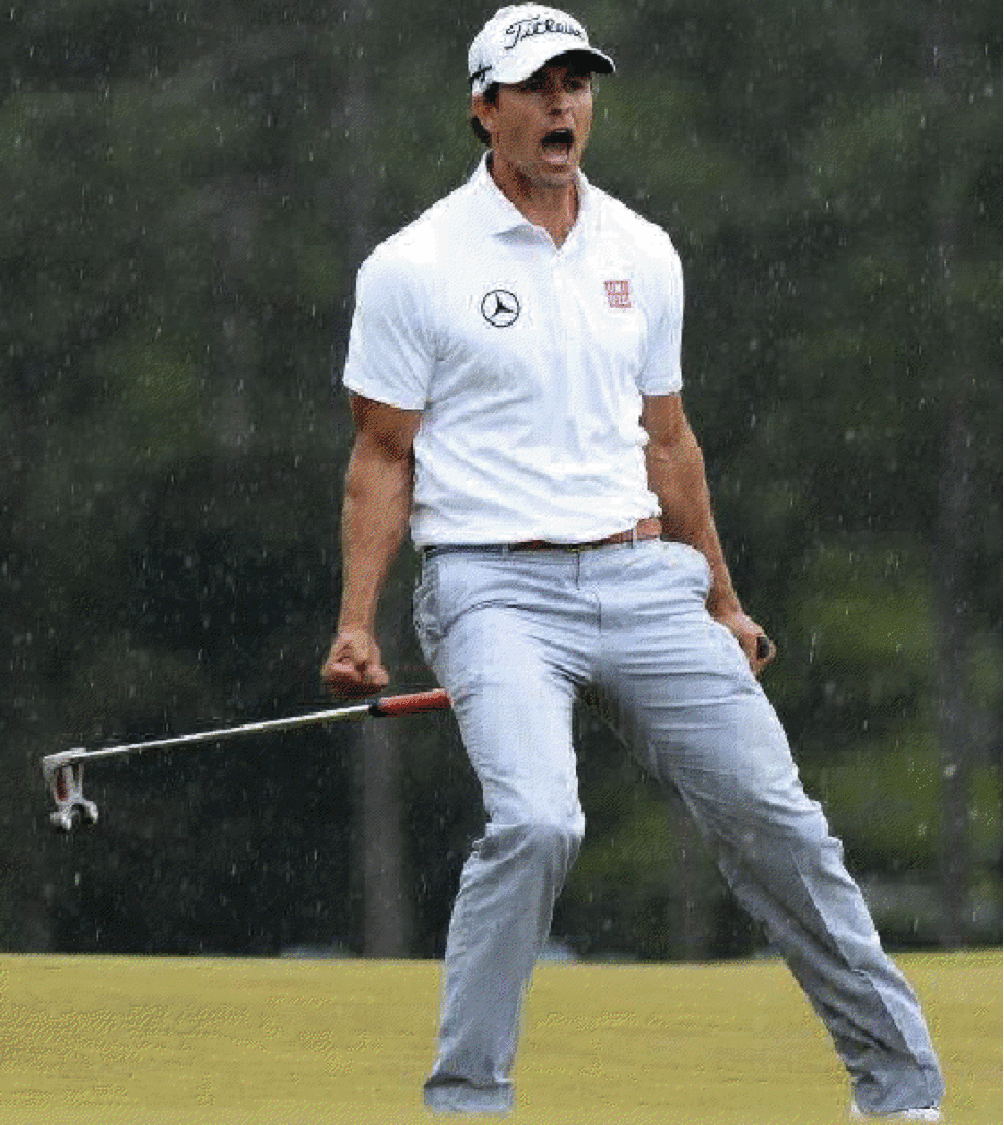 Congratulations to Adam Scott for Winning the Master Tournament on Sunday in Dramatic Fashion. Adam drained a 20-foot birdie putt on 18 to gain a one-stroke lead over past Masters Champion Angel Cabrera who was in the fairway behind him with a shot to tie. Angel probably hit one of the best shots of his life with all the pressure to make birdie and send the tournament into a sudden death playoff. Cabrera hit a 7 iron up hill to 4 feet and a near gimmie. Angel then made the short birdie and sent the Masters into a playoff with Aussie Adam Scott, both men in at – 9 par. The playoff took two holes but in the pouring down rain Adam Scott made another 20-foot birdie putt to win the 2013 Masters Green Jacket.
This Masters did have its share of controversy this year. A one-stroke penalty was assed to Guan Tianlang a 14-year-old amateur for slow play on the 17th hole of his Friday round. In the decision Guan was warned on the 14th hole that he was taking too long. The USGA rules states that a player has 40 seconds once they address the ball to make a swing. The rules official was then timing his shots after the warning
and Guan took 50 seconds to hit his second shot on 17 and thus a one stoke penalty.
Tiger Woods also had a near disqualification at the Masters this year. He was penalized two stokes after he took an illegal drop on the 15th hole. Tiger admitted in his press conference that he dropped the ball two feet further back from where he had stuck the first shot because he wanted a slightly longer shot into the green. The rule states that the player must drop the ball as close to the original spot as they can. Had he not admitted to a two-foot further drop no one would have questioned this rule. Tiger was extremely upset about this decision to penalize him, and he even questioned if he wanted to play the rest of the tournament because he was slighted for almost nothing. What is dropping the ball two feet further back going to do helping the shot? Who knows but it's a penalty regardless.
All in all this was a great Masters weekend. Adam Scott deserves the win with his amazing play, and Tiger Woods and the rest of the field will have to wait one more year to have an opportunity to win at Augusta National the world #1 ranked golf course.
By: Claude Pope