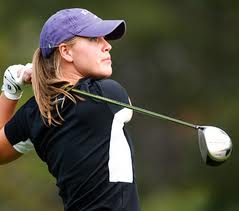 Alright, ladies. Break out your plaid skorts, pastel collared tees, and matching visors, it's time to channel your inner Annika Sörenstam. Now, we've all heard the generic golf tips that beat the same mundane points into the ground. Forget that. Yours truly is here to give you the lowdown for the golf crown. Follow these tips and you'll be queen of the course:
1. Bling Up Your Swing: Want speed and distance with every swing? Try taking practice swings a few inches above the ground, forcing your clubhead to follow the curvature of your body as opposed to following a vertical, up-and-down path. Also, when practicing, wine-and-dine your drivers and woods instead of focusing all your attention on the 5- or 6-irons. You're more likely to use the former.
2. You Need Room To Bloom: When is being crammed ever a good thing? Give yourself some space. Don't be afraid to stand wide, shift your weight to the right, and tilt your head so that your head rests atop the right side of your pant's zipper. Allow yourself to stand far enough from the driver to really put all your power into the swing. But don't be too distant from your driver! It needs love too. Try standing about an open hand's length from the butt of the driver (if the thumb of your out-stretched hand touches the butt of the club, the tip of your pinky should touch your leg)
3. Hip Tip: Put your hips into it, ladies! Turn your shoulders, allowing full rotation of your upper body, while resisting with your hips, turning your lower body into an anchor. The increased resistance will build the momentum of your downswing and cause your hips to unwind naturally. Your shoulders will follow suit, creating raw power you can then harness into your swing.
4. Lift and Shift: What's the point of doing anything if you don't follow through? If you start your swing with your weight bearing down on the right, lift and shift that weight so that you end on the left. Rotate your torso so that finish with your tights close together, forming an inverted "V" with your lower legs. If your "V" is large or your knees are not touching, you didn't follow through. Try to follow through completely, lifting and shifting your weight to the left, to achieve optimal balance and distance.
5. Whoosh, Swoosh: Practice makes perfect. To achieve perfect sync between your arms and your body, turn your driver upside-down so that your are grabbing it by the shaft near the clubhead. This will allow you to take quicker, lighter practice swings. Listen for a "whoosh" sound near the bottom of the swing. If you hear a "whoosh" at the top of the swing, you are accelerating during the wrong part. After doing this several times, turn your driver back around the right way. You should feel an improvement in the timing and synchronization of your swing.
If you follow these five tips, the only time you'll be "sub-par" is when you're shooting a birdie. May the "course" be with you!