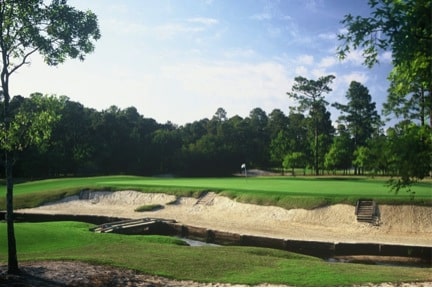 If you are into things like golf nirvana, Myrtle Beach SC is your Holy land. There are over 80 golf courses in a 60-mile stretch called the Grand Strand. The best place to stay during your golf worship vacation is the Inlet Sports Lodge in Murrells Inlet, and then play golf at True Blue and Caledonia Fish Club. Tee-Links.com has great golf packages that combine these two amazing places.
I had the pleasure of staying in a top-notch facility called the Inlet Sports Lodge. This boutique hotel is located in Murrells Inlet just minutes south of the heart of Myrtle Beach. They offer some unique amenities such as fish cleaning stations, Great out door grill and patio, and a personal storage for all your fishing polls, boogie boards, golf clubs, and beach chairs. Each room comes with a full kitchen, microwave, fridge and comfortable beds. If you climb to the top of the stairs there is a great observation deck over-looking the marsh and the distant Atlantic Ocean. I will be recommending this hotel to everyone.
Myrtle Beach always surprises me with the level of quality golf. I thought growing up that the golf was good, but since I have grown older and have more experiences playing Top100 golf courses, Myrtle Beach best two golf courses are on Par with a lot of America's top golf experiences. For Instance the Michael Stranz designed True Blue and Caledonia Golf and Fishing Clubs are located in Pawleys Island SC just south of Myrtle Beach. Both courses are Top 100 Public Course in America.  Both courses are vastly different, True Blue plays more like a links course, and Caledonia is set on a Southern Style Plantation property that plays like a marshland creek-side course. Each course has unique Michael Stranz designs like railroad ties, natural waste area, gnarly bunkers, and beautiful undulating greens.
Playing these golf courses are like walking through a nature conservatory, you will see all kinds of exotic birds, alligators, snakes, and lizards. True Blue plays a difficult 7100 yards from the Tips and Caledonia is a pesky 6500 yrd par 70.
The beauty of golf nirvana is that it is affordable, easy to use and available 24/7 online at Tee-Links.com   Here you will find discounts on participating Myrtle Beach area golf courses Like True Blue, Caledonia, and The Inlet Sports Lodge. Let us put together a golf package that you will never forget. The Ultimate golf Nirvana.
By: Claude Pope