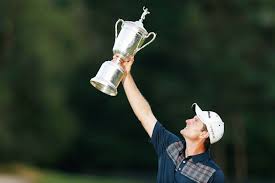 Justin Rose won the 113th US Open with a final round of 69 and his first major championship. By adding birdies at 12 and 13 the Englishman played the very tough final five holes in 1 over par. Rose nearly holed out for a birdie on 18 when he rolled a bump and run with a three-wood to two inches securing his par and forcing Mickelson to birdie the 18th hole to have an 18 hole playoff on Monday.
Mickelsons tee shot found the rough on 18 and forced him to hit an approach shot eerily similar to the one he faced on the 18th hole at Winged Foot in 2006. This time Mickelsons approach missed the tree but came up short in the swell fronting the green. With chants of "LETS GO PHIL" from the Philadelphia crowd, Mickelson barely missed his pitch based upon the line, but, the ball rolled off of the back of the green where he ended up making bogey.
Rose became the first Englishman to win the US Open since 1970 when Tony Jacklin led wire to wire at Hazeltine in Minnesota. Splitting the 18th fairway with his tee shot, Rose came over the hill to find his ball just yards from the fame Hogan plack. Interviewed after the round Rose said, "When I came over the hill and saw my ball laying in the fairway, I thought, 'This is my moment.' It was me hitting from the middle of the fairway."  That led to a clear look at the flag, to which his approach rolled slightly over the green from where he would make par.
Rose, who turned pro right after the 1998 British Open had been coached by his father Ken since he first put a club in his hand at the age of 1. Rose missed the cut in his first 21 starts as a pro. He won his first professional tournament in 2002 in Europe. Overcome by emotion after holing out on 18 Rose looked to the sky and no doubt was thinking of his father, who passed away in 2002 from leukemia. "I couldn't help but look up at the heavens and think my old man Ken had something to do with it," Rose said.
Merion passed the test this week and so did Justin Rose. Congratulations Justin.
By Dustin Edwards