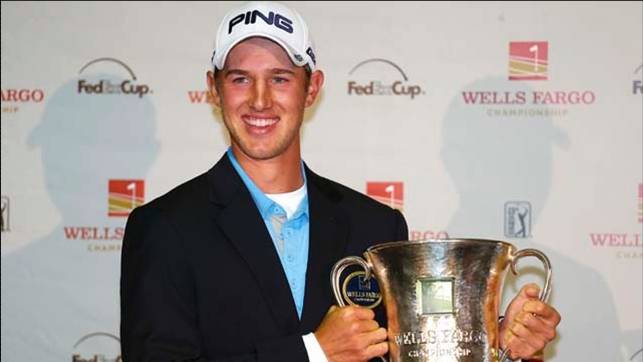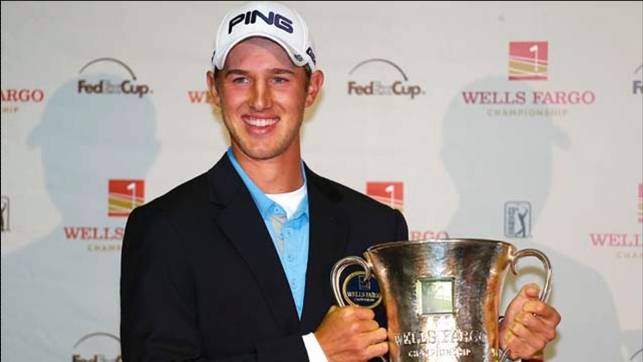 The PGA Tour had another first time winner this past weekend at the Wells Fargo Championships, Derek Ernst.  Derek age 22 is a UNLV graduate has a great story this week. Derek was half way to Athens GA to play on the Web.com Tour Stadium Challenge Wednesday afternoon when he got a call that we would be in the field at the Wells Fargo Championship and he turned right around and back another 2 hours to Charlotte NC.  Derek Ernst was the 4th Alternate and its pretty amazing that he even had the opportunity to play golf in Charlotte this week. 
 Derek Ernst had a really solid final round and birdied the final hole to be the low player in the club house at -8. The weather was terrible, heavy rain the last 4 holes for the final groups. Phil Mickelson had a 2 stoke lead at -9 then proceeded to bogie 16, 17 and pared 18 to shoot -7 in the final group.  Ernst was 2 shots back  from Phil and finished with par, par, birdie to go from -7, to -8 on the last hole;. There was very little coverage on Derek Ernst because he was 2 or 3 shots behind the leaders all day till the final 3 holes called the Green Mile. Ernst then had an impressive Sudden Death win against David Lynn who got a bogie from the greenside bunker on 18, Ernst pared the 18th hole against David Lynn and won the play-off and the Wells Fargo Championship.
 Derek Ernst was the 1,207 ranked player in the world before this week and after this win he has moved the #187. Way to go Derek, I hope you enjoy your pay check of $1,188,000, Player Championship invite, Masters Invite, 2 year exemption on the PGA Tour and all the sponsorship opportunities that will come with this win.
By: Claude Pope