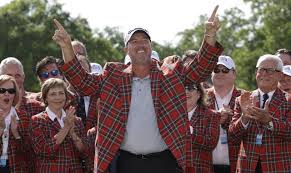 Boo Weekly carded a final round 4 under par 66 on Sunday for his third career PGA Tour victory. With precision ball striking on a course filled with doglegs, Weekly had 6 birdies on the day. Long one of the tours most affable characters since his first win in 2007, Weekly provided a breath of fresh air and quotes to one of the crazier weeks in professional golf in recent memory. When asked about the difference between the plaid jackets he's won (the Verizon Heritage) he said "I couldn't tell you, it's been so long"
Weeklys win took the spotlight off of the decision to ban the anchored stroke, Sergio Garcias comments, as well as those comments made by European Tour head George O'Grady. With three top ten finishes prior to his recent victory you could see that Weekly was heading in the right direction.  Weekly welcomed the butterflies he felt on the first tee on Sunday "I might have shot 80 today but I didn't. It was my time to win" The 1.1 million in earnings pushed Boo up into the top ten in the Fed-Ex Cup and PGA Tour money list.
Having always said he wanted to play just long enough to make the money he needed to retire so he could fish and hunt. Weekly added "I can still fish and play golf. Right now I am still enjoying the game."  That's what has made Boo so likeable, his small needs and self deprecating humor. Given everything that transpired during the week with anchoring ban and the Garcia comments, Weekly win was a good win for the tour.
This week we head to Muirfield Village where world number 1 Tiger Woods will be defending his title. The Memorial gets everyones radar pinging for the US Open and the run up to the rest of the summers majors. The talk and opinions of the anchoring ban will come to the forefront of golf again, given that some of the, more well known and recently successful golfers who use an anchored stroke will be in the field. The Garcia topic will undoubtedly be brought up again since this is Woods first tournament since the comment was made. Let's just hope that the only booing we hear is for the guy who just wants to fish, hunt and play golf.
By Dustin Edwards