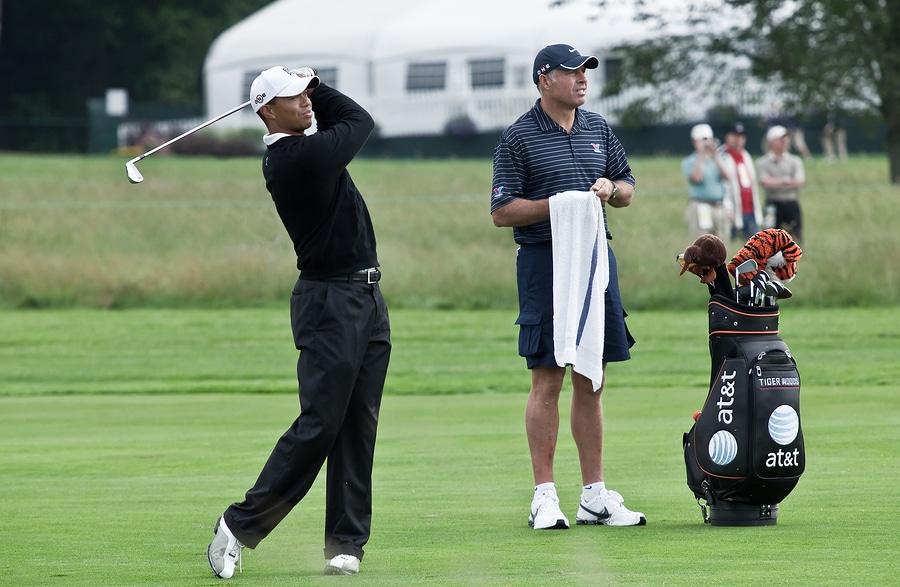 When Tiger Woods's long time caddie Steve Williams celebrated his first win on the bag of Adam Scott, he finally revealed the key to Tiger's phenomenal success. No it wasn't the fact that Tiger Woods could hit the ball a country mile or that he could stare down any opponent on the final stretch of a major golf tournament. Clearly, it was having the world's greatest caddie on his bag that rocketed Eldrick Woods to the pinnacle in the world of golf. That's what we must believe if we live in the fantasy world created by one of the richest Kiwis in all of sport.
When Williams contended that his win with Adam Scott at the Bridgestone Invitational was 'the best win of his life' it was clear from that moment that he had moved house into cloud cuckoo land. Having won a total of 145 as a caddie, 14 of those wins in major tournaments alongside the greatest golfer the world has ever known, Williams cites a nothing victory as his career highlight. Yes, we all believe you Stevie! As if that wasn't enough, Williams then compounds his crass comment with an attack on Tiger that was initially viewed as a racist comment. Williams' outburst moved one fellow caddie to comment, "We all knew Steve Williams was stupid, we just didn't know he was that stupid".
Tiger Woods then displayed a dignity that Williams is clearly incapable of by accepting his former caddie's groveling apology and getting him off the hook when it seemed certain he would be sacked by his new employer, Adam Scott. This means Stevie Williams; the greatest caddie in the history of the universe will continue to break all records in the world of golf. We must surely expect to see Adam Scott win the next four majors in succession, now that he has secured the man responsible for the unbelievable success enjoyed by that journeyman pro Tiger Woods. Here we were thinking that Tiger's success was solely due to his unmatchable golf game when all along, the real secret to his success was a bag carrier from New Zealand with a big mouth. 
Perhaps the time has come for a review of how the Golf World Rankings are tabulated. Should we now be looking beyond the players who swing the clubs, shoot the low scores and hole the crucial putts and instead turn our attention to the guys who carry the bag? Luke Donald might be enjoying his stint at the top of the world rankings, but he better look out. The greatest bag carrier in the history of the game is breathing down his neck. This time next year Stevie Williams could be sitting proudly at the top of the ranking table. Who believes that? Stevie for one!