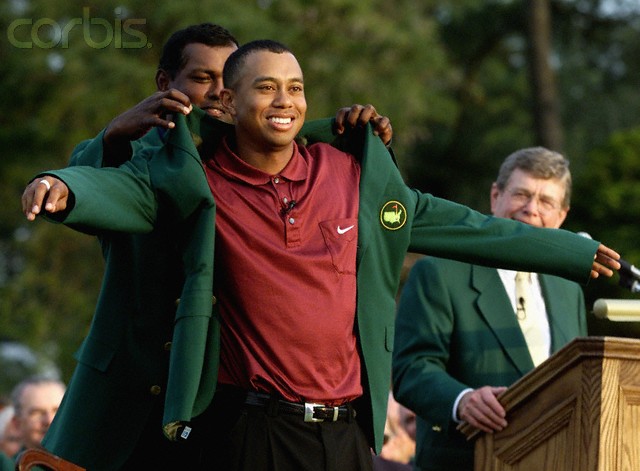 It is an exciting time for Golf and lets face it Tiger Wood has sorely been missed by many, but is Tiger really back?
In the headline Tiger is back! You can't miss the headlines they are everywhere whether your watching ESPN, reading the golf magazines, the evening news, TV ads by Nike proclaiming the "Tiger is back". The Vegas odds has Tiger as a clear favorite to win, doubling the odds of Rory McIlroy and Phil Michelson as they are the trio favorite to win this years green jacket.  The 2013 Master Championship Tee-Off kicks off tomorrow morning with excitement because the golf industry has it's legend back with expected record high viewership it is going to be an exciting game.   Golf, a sport that has missed the positive attention Tiger has brought in viewership and merchandising is now expected to make a come back.
Even though "Tiger is back" is headlined everywhere – where does he really stand?  Lets face it the headlines are dramatic it is a media blitz and it is in the Golf Industry's best interest that "Tiger is Back". Yes Tiger has won 3 tournaments earlier this year, and yes Tiger is back to his winning status… but ask Rory's girlfriend Caroline Wozniacki what number 1 in the world really means and also what it means to be the best in the world and she will give you the real answer not a media blitz.  For Tiger to be back he needs to win big tournaments and if Tiger wants to pass Jack Nicklaus as the all time great Golfer he needs to pass Jack's mark of tournament majors.   Tiger is one of those names that will be synonymous with golf, Tiger Woods, exploded onto the professional circuit, changing the landscape of the sport forever, in much of the same way that Roger Federer is revered for his Grand Slams Mastery in Tennis. Tiger Woods was the youngest player in history to win the Masters tournament, and went on to record breaking games throughout the rest of his career. Tiger has a real chance to truly cement his place back on top of the Golf world by winning this weekend in Augusta in a course that Tiger is familiar with winning, but has not won since 2005.  If Tiger does win this years Masters he will have the world back eating out of his hand and in my humble opinion Tiger needs to win this years Masters or this years US Open in order to earn back the Worlds number 1 status.