(Last Updated On: April 29, 2013)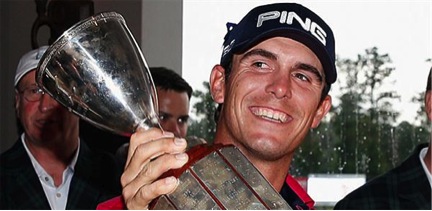 Billy Horschel won for the first time in his career on the PGA Tour at the Zurich Classic in New Orleans. Horschel is a 26-year-old rising star from the University of Florida. Billy had an amazing streak of 6 birdies in a row from hole 6-11 and lipped out on 12 for birdie, he finished -8 under 64. Horschel made a great birdie on 16, which gave him a 1 shot lead over D.A Points.  Weather plagued the final round and the final 2 groups had to wait almost an hour to finish their round at TPC Louisiana.
Billy had to come back from the weather delay and finish the par 5 18th.  Horschel had 272 yards to the finish line and it looked like he would need to birdie the final hole to hold off D.A Points. Horschel laid up and hit a pitching wedge to 25 feet, an unlikely birdie opportunity. D.A Points hit into a greenside bunker in 2 and hit a great chunk and run to 5 feet for birdie and the tie. At this point Billy Horschel had only one option, make the putt and win. Horschel took very little time lining up the putt; he pulled the trigger and Baam it went in!  Billy pumped his fist furiously and yelled in excitement. He had just won for the first time on the PGA Tour. Along with his $1,188,000 he won he will also be fully exempt on the PGA Tour for 3 years, he will be invited to play in the 2014 Masters, 2014 Hyundai Tournament of Champions in Hawaii, and the 2013 US Open at Merion.
By: Claude Pope