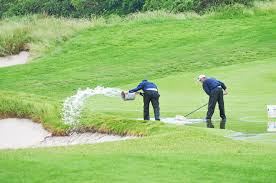 As June 13th approaches, speculation about the possible outcome of the 113th US Open builds. To be held on the east course at the Merion Golf Club in Ardmore, Pa, this will be the fifth time that the US Open has been held at this location. What makes this course unique is the presence of red wicker baskets at each hole that replace the usual flags. Since it's opening in 1914, this particular course has been home to 18 USGA championships, which is more than at any other location. The last US Open to be held on this course was in 1981. David Graham became the first Australian to win the US Open.
While there is much anticipation of the upcoming event, the recent rain may complicate things for this year's US Open at Merion Golf Club. The east course has already been soaked resulting in delays and cancellations of practices before the big day. The rain causes the courses to be softer and therefore contributes to a slower game, which increases difficulty. The wetter the course, the more resistance, this could pose an issue because the ball will not travel as far as it would on a dry course. This could definitely negatively impact the player's scores. Though crews are working hard to keep the amount of flooding under control and protect the course, we could still see complications in the days ahead. There are plans to utilize a few holes on the west course in case some of the east course is not dried out in time.
Given the complications with the weather, there is hope that the rain will clear up and the course will dry out so that there will not be any delays or cancellations on the big day. The less than ideal playing conditions certainly will add excitement to the event. It seems that only this will provide a great opportunity for the best players to shine. If they can overcome these obstacles it will truly be a great event.
By Morgan Casper