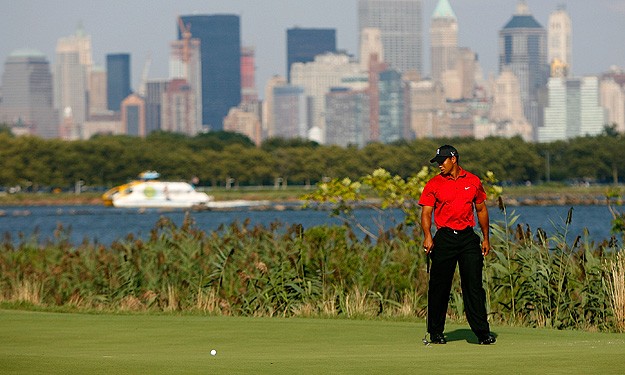 It looks like Tiger Woods the world's top-ranked player will be in the field when the FedEx Cup playoffs kick off next week.
Tiger has a significant lead heading into the FedEx Cup standings.  Woods has listed the Barclays as his next event according to his website.  The Barclays is back at Liberty National, the golf course that is on the Hudson River over-looking the Statue of Liberty and New York City. Woods nearly won in 2009 the last time the event was at Liberty National finishing tie for 2nd.
While the full field won't be finalized until the conclusion of this week's Wyandam Championship, Woods' decision to add the season's first playoff event would mark just his fourth start in the tournament's seven-year history. He missed the 2008 edition at Ridgewood Country Club because of injury and was not eligible in 2011, when Dustin Johnson won at Plainfield Country Club. In 2007, the first year of the playoffs in their current format, Woods had a similar advantage in the standings and opted out of The Barclays, contested that year at Westchester Country Club. Despite the decision, Woods went on to win the inaugural FedEx Cup three weeks later.
By Claude Pope