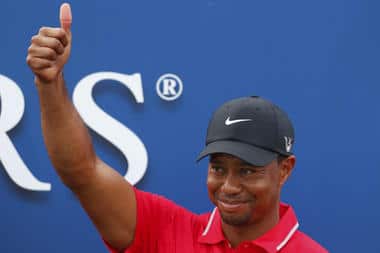 Tiger Woods won his second Players Championship on Sunday with a final round 2 under par 70. Woods had built a comfortable two shot lead by Tiger Woods standards, going to the 14th hole when he pop hooked a 3 wood into the water on the left. The ensuing double bogey dropped Woods into a four way tie with Jeff Maggert, Sergio Garcia, and PGA Tour rookie David Lingmerth of Sweden. What happened next was what made for an exciting and comical finish to the 40th PLAYERS Championship.
PGA Tour Veteran 49 yr. old Jeff Maggert stood on the 17th tee of the fame island green at the 137 yard par three.  With the wind blowing into and a little left to right, Maggert came up splashes by dunking his ball short and into the water. With Maggert out of the running, Woods smoked a three wood into the right rough on the 16th hole and mashed a four iron out of the rough into the front right bunker and got up and down for birdie to reclaim a one shot lead. The 17th hole at Sawgrass is where the golf world was first introduced to Tiger Woods being Tiger Woods back in 1994. This time around provided no dramatics as Woods hit a wedge to 40 ft and made the two out for par look easy.
Standing there watching was Garcia and Lingmerth. Garcia, having added a birdie of his own on the 16th was now tied with Woods at -13. Lingmerth still lurked one back at -12.  Garcia took dead aim at the flag and came up wet dashing his hopes of a second PLAYERS Championship, and once again, being unable to get the better of Woods when coming down the stretch. Adding to his misery, Garcia rinsed another one and ended up making quadruple bogey 7. Lingmerth on the other hand, showed the steely resolve of a veteran despite being a rookie, and knocked his shot to twelve feet, but missed the birdie attempt on the right side.
Meanwhile Woods had set himself up well by tracing a three wood dead center that set up a nine iron approach which came to rest 15-20 ft above the whole. Woods cozied down his birdie putt for a tap in par, putting the pressure squarely on Lingmerth. Garcia added to his trevails by splashing his tee shot in the water on 18, while Lingmerth from the right rough, hit his approach to about 40 ft right of the hole. Left with possibly the fastest putt on the golf course, Lingmerth raced his putt by a good 12 feet, sealing victory and a second PLAYERS Championship for Woods.  The victory is Woods fourth of the year and we haven't even gotten to the second major of the year. Golf is good shape.