The golfing world is eagerly looking forward to an incredible US Open this year on Merion Golf Club (East) outside Philadelphia PA. Merion is known as the best short Course in the world. (126 Acres) Golf Digest has Merion ranked as the #6 golf course in the US in their Top 100.  Hugh Wilson, William Flynn(Shinnecock) Perry Maxwell, and Tom Fazio each had a part in designing what is known as Merion East today. The East Course legacy began in 1912, and it has hosted 19 USGA events and 4 US Opens since then.  Past Winners include Bobyy Jones 1924, 1930, Lee Trevino 1971, Ben Hogan 1950, and most recently Edoardo Molinari in the 2005 US Amateur.
The 16th Hole at Merion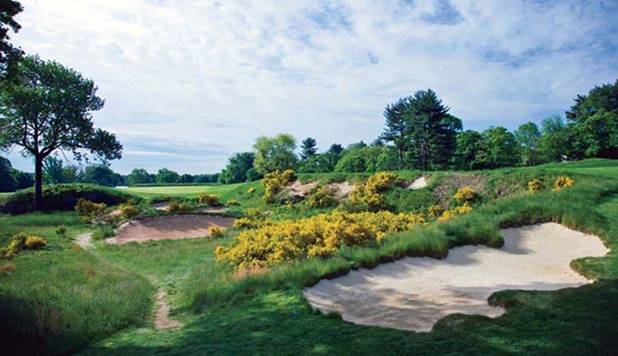 The winner this year is going to be a player that can drive the ball straight, putt with lightning in their veins, and have nerves of steel. The leaders most likely use more Hybrids, or 2 irons off the tees this week. Hitting the fairways during any US Open is always at a premium but this year even more so. Merion is tight off the tee with small hard greens. I played golf with a Merion member recently and he told me a few things about the course. It is now 4 weeks out from the US Open and he says, it is already in US Open conditions for the members and has been for a few weeks. The course will stay open until the week before the tournament. He claimed he shot 101 last weekend because the course is set up so hard right now. He is a legitimate 6 handicap and it is hard to believe because he is a good golfer. He said, "The ruff is so thick that if you hit into it, you automatically have to hit a 50 degree wedge just to advance the ball." He also told me about how the course is broken up into 3 different 6 hole courses. The first 6 is medium hard, the second 6 is relatively easy with 5 holes under 400 yard and the 13th is a short 120yrd par3, and the last 6 are the most difficult with the 17th hole a 256 par 3 and 463 yard par 4 18th.  A player must be able to score during the second 6 holes and then hold on strong on strong on the finish to win.  Ben Hogan famously hit a 1 iron on 18, which propelled him to win the 1950 US Open.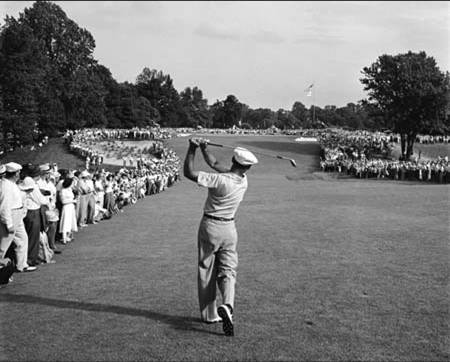 Instead of picking a winner by merely saying Tiger Woods, I am going to pick a winner who is a guy that not many people have heard of till this year. His name is Russell Henley. Russell is 24yr old PGA Tour Rookie who plays like someone who has nothing to fear. He has made a name for himself already on the PGA Tour. Russell won the Sony Open in Hawaii his first ever event on Tour, and he won at the Stadium Course/ University of Georgia winning as an amateur and student at UGA on what was then the Nationwide Tour. Three stats jump out on me that favor Russell Henley for the US Open.First he is 7th on the PGA Tour this year on par 4s. He will play 2 more par 4s this tournament because the course is a par 70, he is 11th on tour in overall putting statistics, and he is 12th on Tour in the # of birdies made category. All this equates to Russell playing more par 4s, putting in the Top 11, making lots of birdies, and eventually winning the US Open! Well, that's a brave thought for me and for Russell Henley, but I believe he is certainly capable of winning on the big stage. Las Vegas odds makers have him listed as 150/1 favorite. I believe I am the only one picking Russell Henley this week, If he wins Ill say I told you so, but If he looses its no big deal.
By Claude Pope
Russell Henley