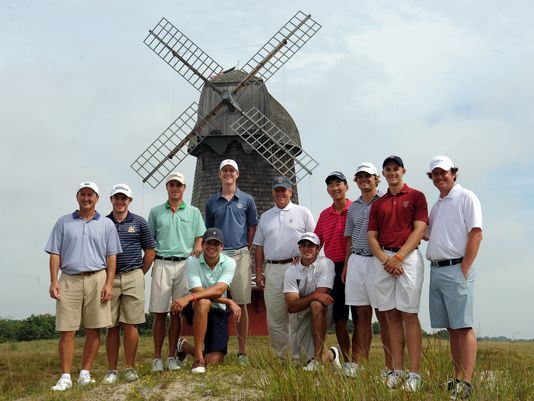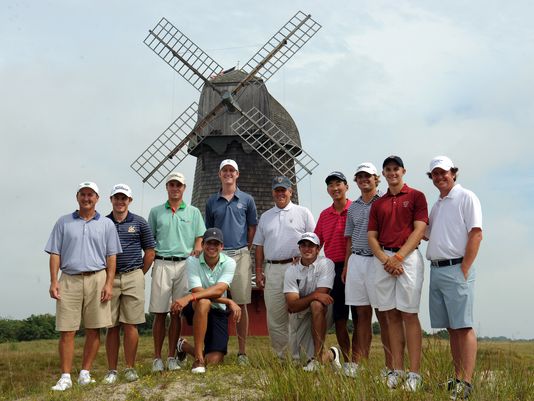 Nathan Smith won the deciding point in the United States' 17-9 victory over Great Britain and Ireland in the Walker Cup on Sunday, beating England's Nathan Kimsey, 4 and 3, in the fifth singles match at historic National Golf Links of America.
The United States, ahead 8-4 entering the final day in the biennial amateur event, split the four morning foursomes matches and won seven of the 10 afternoon singles matches.
The event, first played in 1922 at National Golf Links, is named in honor of former USGA President George Herbert Walker – President George H.W. Bush's grandfather and President George W. Bush's great-grandfather. George W. Bush attended the matches.
The U.S. leads the series 35-8-1. In 2011, Britain and Ireland won 14-12 at Royal Aberdeen in Scotland.
The 35-year-old Smith, a four-time U.S. Mid-Amateur champion from Pittsburgh, won the par-3 13th and par-4 14th with pars and ended the match with a halve for bogey on the par-4 15th.
Alabama teammates Bobby Wyatt and Justin Thomas, 45-year-old Todd White, California's Michael Kim, Oklahoma State's Jordan Niebrugge and Stanford's Patrick Rodgers also won singles matches.
England's Matthew Fitzpatrick and Callum Shinkwin and Ireland's Kevin Phelan won their singles matches. Fitzpatrick, a freshman at Northwestern, won the U.S. Amateur last month.
Wyatt beat England's Neil Raymond, 4 and 3; Thomas routed England's Max Orrin, 6 and 4; White topped Wales' Rhys Pugh, 4 and 3; Kim beat England's Garrick Porteous, 4 and 2; Niebrugge pounded England's Jordan Smith, 6 and 5; and Rodgers edged Ireland's Gavin Moynihan 1 up.
Fitzpatrick beat California's Michael Weaver, 3 and 2; Shinkwin edged Alabma's Cory Whitsett 2 up; and Phelan beat Max Homa, the NCAA champion as a senior at Cal, 2 and 1.
In the morning foursomes, Whitsett and Wyatt beat Kimsey and Orrin, 2 and 1, and Homa and Kim also earned a point for the United States, topping Porteous and Pugh 1 up. Fitzpatrick and Raymond beat Weaver and White, 3 and 2, and Moynihan and Phelan topped Rodgers and Niebrugge 2 up.
By Claude Pope