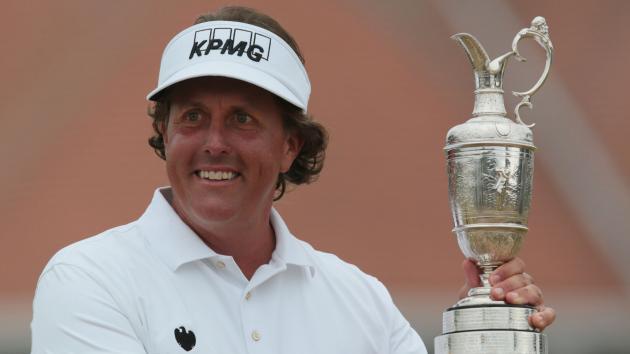 Phil Mickelson shocked the golf world at Muirfield on Sunday, firing a 66 to win the Open Championship. Phil came in under the radar at the start of Sunday's leaderboard +2, 5 shots back from leader Lee Westwood. Mickelson played calmly all day as there was not the usually Sunday pressure for him to perform. He was not supposed to win, so Phil took some chances on the back 9 and they paid off Huge.
Mickelson birdied 4 of the last 6 holes and made a critical par putt from 10 feet on 15 to keep his hopes alive. The most impressive part of the round was 17 and 18. Mickelson ripped 3wood, 3 wood into 17 a massive par 5. He had 301 to the flag and hit the best 3 wood of his life to 20 feet for Eagle. He had a tap in birdie to take a 2 shot lead into 18. Again he ripped the 3 wood and hit his second to 15 feet, made the birdie and put an exclamation point on his place in golf history with a back 9 score of 32 to win the Open Championship. After the round Phil had this to say,
"This was probably the best round of my life," Mickelson said as he sat in the interview room, his hand never leaving the claret jug. "I hit some of the best shots I have ever hit, I putted better than I have ever putted. I told myself I needed my A-game today, and I did."
Mickelson now has 5 Majors putting him on 1 back of Faldo and Travino, and 2 majors back from Arnold Palmer, Snead, Sarazen, Harry Vardon and Bobby Jones. This win could easily give Phil a resurgence to stay focused for a few more years and win more majors. The only major Phil is missing is the Coveted US Open in which he has finished 2nd a record 6 times included this past year at Merion. If Phil could win the US Open then that would complete his career grand slam.
By: Claude Pope