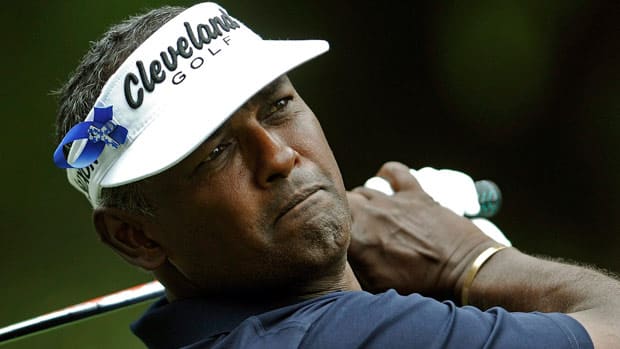 The PGA Tours flagship event has been overshadowed so far this week by Wednesdays' revelations of Vijay Singhs lawsuit against the PGA Tour. The Players is not a major, but the PGA Tour sure markets it as one. The purse is the largest in golf at 9.5 million, with a cool 1.7 going to the winner on Sunday evening. It is played at the same course every year, which isn't much different from many of the other tour events. What makes this event different is the Pete Dye designed course. Along with the very unique and tantalizing par 3 17th hole, which at only 137 yards might seem benign, except for the fact that you are hitting to an island green surrounded by water.
  In January, Singh told a Sports Illustrated reporter that he was using the deer antler spray, which contains IGF-1 (a banned substance by the tour at the time) "every couple of hours…every day" and was "looking forward to some changes in my body". The tour kept a very low key public stance on the issue and suspended Singh for 90 days. Of course Singh appealed, and was allowed to continue you playing on the PGA Tour. Fast forward to April 30, and the tour had cleared Sing of doping offenses after the World Anti-Doping Agency (Wada) confirmed the deer antler spray Singh admitted to using was not "prohibited unless a positive test results".
 On Wednesday, the day before the PGA Tours biggest event, Singh dropped the lawsuit on the Tour and it has been the hottest topic so far and will continue to be talked about through the weekend. Singh released a statement saying "The PGA Tour not only treated me unfairly, but displayed a lack of professionalism that should concern every professional golfer and fan of the game". Those are pretty harsh words from someone who admitted to taking a banned substance, and was eventually absolved of any wrong doing. Essentially what Singh was saying and what the lawsuit adds up to is negligence by the PGA Tour.
  This is something the tour wanted to be done with by the time this tournament rolled around. It was done with it and Singh brought it write back up. The focus now will be on the tournament because play has started. Unless Singh is in contention on late Sunday it will most likely not be talked about except for at the beginning of each telecast and when Singh is shown on tv. Golf fans will be more interest in watching the players navigate, 16, 17 & 18, which is the way it should be.
By: Dustin Edwards